Album FUTURE BLUES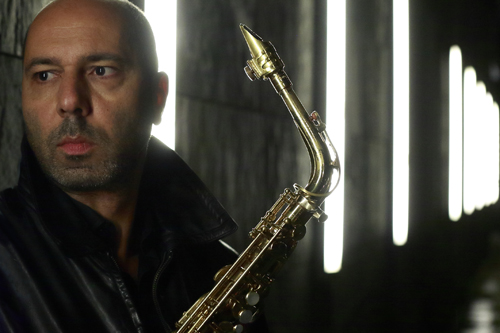 FUTURE BLUES is the second album of saxophonist, composer and producer Oliver Hafke Ahmad from Berlin. It is deeply rooted in jazz and electronic music (house, ambient, techno, breakbeat), using consequently the electronic and digital possibilities of our time and heading for the sounds and rhythms of the future.
Beside some dance floor jazz tracks like "Future Blues" or "Double Bass In The House" or "Major Minor" you will find more ambient music like "Space Traveler" or "Raggatronic", the rock influenced "Dual", the epic techno jazz track "Symphonic Bytes" or the cinematic electro funk "Fight For Power". As an extra there is a break beat version of the housy title track "Future Blues".
On this album Oliver (son of a German mother and an Arab father, grown up in a German-Arab-Afro-American family) refused the traditional way of recording jazz with a band performing at the same time in a studio, what might be a provocation for conservative jazz critics, but what is very common in contemporary pop music. He composed, developed and produced the music over a period of time and improvised on his own tracks on many instruments beside saxophone also on flute, keyboards, synthesizers, guitars and percussion instruments and arranged everything in his computer.
So this album is a kind of self-portrait reflecting music from Miles Davis and John Coltrane to Kraftwerk, Daft Punk and Moderat. Instead of a communication between many musicians on a regular jazz recording you can hear Oliver talking to his own compositions and reacting to his own musical ideas. The music speaks of the analogue individual in a digital world. You hear the warmth, breath and human voice of the alto, tenor, soprano saxophone, flute, guitars and electric bass colliding with the abstract sounds of the synthesizers and drum machines.
Links to streaming-sites and online shops with the new album FUTURE BLUES you find here...
---
Album BACK & FOURTH
Jazz, pop, electronic & world sounds melted to a personal style. Oliver Hafke Ahmad is inspired by giants like David Sanborn, John Coltrane, Miles Davis, Jan Garbarek, Gato Barbieri, Sonny Rollins, Maceo Parker, Jorge Pardo, Nils Petter Molvaer and many more. Black Music like Bob Marley, Stevie Wonder, Prince, Jackson 5, Jimi Hendrix or James Brown. Latin Music also is a strong influence on his music, Carlos Santana was one of the first live concerts he saw. Salsa, Latin Jazz, Cuban and Brazilian Music enhanced his life as a musician as well as a dancer. Due to living in Berlin electronic music is also a natural influence. You can find essences of house, ambient, trip hop and drum & bass in his compositions.
With his quartet (known in Berliner clubs as The Jazz Nomads) he is presenting his own compositions. Songs between Modal Jazz, Soul, Drum & Bass, Dancehall & Reggae. Nothing for purists, but has Jazz ever been pure?
Oliver Hafke Ahmad about the songs of the album Back & Fourth:
Morning Groove
This song was written in the morning during a time, when I was working the rest of the day (and very often also during the night) as a booking agent for the legendary music club in Berlin called Traenenpalast. There I booked musicians like Miriam Makeba, Gotan Project, Maceo Parker, Charles Lloyd, Esbjörn Svensson Trio, Los Van Van or Prince for an aftershow party. Often on the next morning I have been filled with melodies from the nights before and started immediately composing and recording in my own studio.
Back & Fourth
A strong backbeat and some fourths in the melody are the reason for the title of this nu soul-jazz-ballad. The Wurlitzer-Piano is giving some warmth to the song and the five-voice saxophone-section is adding big band atmosphere.
Dancehall Jazz
This song is inspired by the rhythm of Jamaican dancehall. Each time and region has its own groove and sound. The percussion (two bells in part A and two woodblocks in part B) have an effect and suddenly sound very electronic.
DFG
The roots of the first three chords are giving the title of this song. You can hear me in a virtual session on tenor-, soprano sax and flute-section. Beautifully mean is the sound of Thibault`s clavinet solo.
Flying High on AF447
This is a song to a friend of mine, who traveled to Brazil to meet his fiance, and had to die on the flight back to Germany due to an airplane crash. I hope he died while sleeping after having a beautiful time in brazil with his bride and as a happy men, dreaming of his wedding with that girl.
The Guitar Hero
Pat Metheny is one of the masters who is always inspiring me to compose and play. It doesn' t always have to be a saxophonist. Due to my job as music journalist I had the chance to meet many of the greats of Jazz. But even more than talking, listening to their music especially in concerts is most inspiring.
Summerjam
Inspired by the rhythm of electronic music style drum & bass. The A-part is modal and the B-part has some chord changes.
Space Noises
Synthesizer sounds can also be the source of inspiration for writing melodies and songs, even though when you sometimes do not use them in the final version.
Funk X
Composed during Christmas holidays, though it is not a Christmas song. So only the X is left of the working title Funky Xmas.
35°C
It was really hot in Berlin on that day I composed this song. The form is AABC-AABD. I play this melody on tenor, flute and on an analogue mono-synthesizer I once found on a Berlin flea market.
Black Faces
TV-news of an accident of mine workers inspired me to this nu soul-ballad with a very rich melody and complex harmonies. It reminds me that many people have very dangerous jobs to feed themselves and their families.
Tango in Ab Minor
Astor Piazzolla inspired me a lot with his rhythms, compositions and simple sounding arrangements. In our recording you will probably not hear any tango any more.
Band members and musicians of the recording:
Oliver Hafke Ahmad - Saxophones, Flute, FX
Thibault Falk - Piano, E-Piano, Synthesizer
Shota Higashikawa - 7-String-Bass
Benjamin Strauss - Drums
Guests on stage have been:
Eyal Lovett - Piano
Amr Hammour - Guitar and Vocals
Bilal Hammour - Bass
Harunobu "Hal" Tsuchida - Hammond Organ, Bass Pedal
Nikolaus Neuser - Trumpet, Flügelhorn, FX
Sonja Kandels - Vocals, Poetry
Denis Jabusch - Bass
Andreas Weiser - Percussion
Kai Schönburg - Drums